English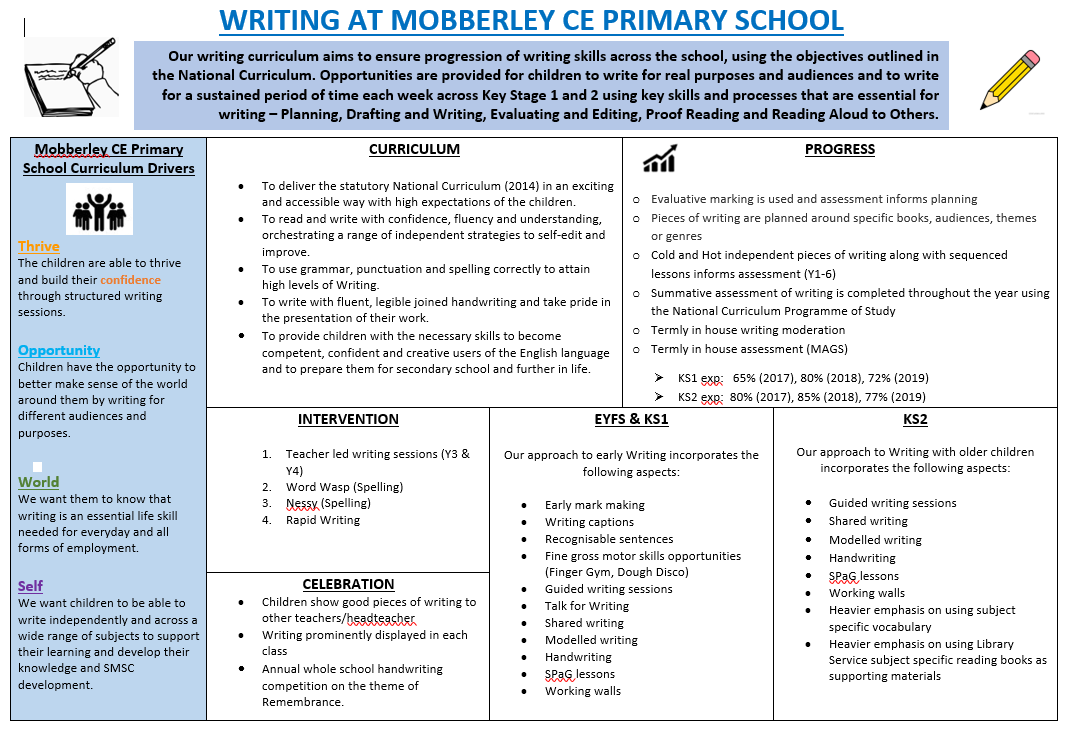 The National Curriculum has identified the objectives to be covered for each paired year group (Year 1 & 2, Year 3 & 4, Year 5 & 6). We teach English in daily lessons across the school, with discrete phonics lessons being taught in EYFS and Key Stage 1, discrete spelling lessons, using the No Nonsense Spelling Scheme in Key Stage 2 and discrete SPaG lessons from Year 2 to Year 6. Working walls may support learning in the classrooms with vocabulary displayed and word mats available for children to use whilst working.
Speaking and Listening
Pupils are taught to articulate their thoughts and ideas out loud and to communicate what they know and understand. Pupils answer questions with a partner, comment on each other's ideas, clarify each other's thinking, and build upon each other's thoughts and ideas. The teacher asks questions to take their thinking further and clears up any misconceptions. Partner discussion helps teachers assess what and how pupils are learning throughout the lesson.
Reading
Classrooms and school areas provide a print rich environment with a range of texts for the children to encounter. There are opportunities for pupils to experience print around them through classroom notices, labels and signs and these take a variety of forms such as single words, phrases and complete sentences. All classrooms have a class library of books which should be well organised and easily accessible as well as reading areas. All adults are good role models for children in modelling both reading aloud and silent reading. A team approach is crucial to developing a reading culture within the school.
Phonics is taught through the Letters and Sounds scheme. Children in EYFS and KS1 receive daily Phonics lessons following the review-teach-practise-apply approach. Jolly Phonics songs and actions are used to excite and engage the children, with the multi-sensory approach helping to consolidate their learning. Classrooms have visual displays, as well as sound mats on every table for the children to access when needed. Children are regularly assessed on the Phonics Tracker tool and parents are informed of progress. Those children who may require additional intervention are identified early and supported 1 to 1 or in small groups. Children take home banded reading books every night, which allow them to apply their phonic knowledge as the route to decode unfamiliar words. Reading workshops are held every year to help and support parents listening to their children read at home.
Writing
We aim to ensure progression of writing skills across the school, using the objectives outlined in the National Curriculum. Opportunities are provided for children to write for real purposes and audiences and to write for a sustained period of time each week across Key Stage 1 and 2 using key skills and processes that are essential for writing – Planning, Drafting and Writing, Evaluating and Editing, Proof Reading and Reading Aloud to Others. Extended writing opportunities are also provided across the curriculum. Teachers model high standards of writing to secure high expectations and enthuse writers. The children are taught to recognise the range of social functions that writing can perform e.g. persuade, instruct, inform, and entertain which enables the children to demonstrate the ability to choose the appropriate form and content to suit the purpose and audience.
Spelling
We firmly believe that good spelling is an essential skill and an integral part of children's reading and writing development. Spellings allow children to communicate their understanding in all curriculum subjects. In order for pupils to develop into effective and confident writers they need to develop and use a range of effective spelling strategies. By providing the children with a range of strategies we equip them with the independence to attempt spellings before asking for adult help.
Handwriting
Handwriting and presentation is expected to be of a high standard throughout the whole school. It is developed using a consistent and coherent approach, confidence, accuracy and fluency using a cursive method of handwriting called 'The Mobberley Style'.
Correct letter formation is taught from the start in Reception and cursive handwriting is taught from Year 1 onwards in handwriting lessons. This is taught systematically and regularly.
MOBBERLEY READING JOURNEY
Currently children experience many quality texts from a wider range of genres within their year groups, however children should be able to read a selection of books known as 'essential reads' which would create a 'living library inside a child's mind', developing their imagination and equipping each child with a wide variety of language. This reading journey will be a 'school community of books' where all children will share these reading experiences.
HAVE A LOOK AT OURS ………
Reception                  Year 1                Year 2                Year 3                 Year 4                  Year 5                  Year 6
Reading At Home 
Please find below a parent's guide to the Book Band reading book scheme we use at school.
If you need support when listening to your child read at home, have a look at the questions below that you can ask while your child is reading or at the end of your reading time. Try a few questions from one of the boxes every time you are reading.
Reception Questions for Parents                                                    KS1 Questions for Parents
Please click on the relevant links below to see what age related expectations your child should be with their reading.
Year 1 Guidance for Reading                                           Year 2 Guidance for Reading
Year 3 Guidance for Reading                                           Year 4 Guidance for Reading
Year 5 Guidance for Reading                                           Year 6 Guidance for Reading