Miss Rainbow
Welcome to Year 4.
Hello, my name is Miss Rainbow. I teach Year 4 and I am the Science Coordinator. I have been teaching for 4 years and this is my first year at Mobberley.
I hope that you have all had a fantastic Christmas break and are looking forward to the New Year.
This term we will be starting our new Cornerstones Imaginative Learning Project, " Road Trip USA". The children have already produced some brilliant homework on the topic – you can see some examples below.
Click here to find a copy of the Spring Curriculum Overview for this term.
14/02/18
We have had a great day today testing circuits in Science. All the children were able to build their own circuits and test different materials to see if they are conductors or insulators.
---
Autumn Term
This half term our Cornerstones Imaginative Learning Project is 'Misty Mountain Sierra.' The children will be learning all about mountains and the water cycle.
I am really looking forward to this term and keeping you updated on the work we will be doing.
7/12/17
Christmas Around the World Day
We had a brilliant day today, finding out about how Christmas is celebrated in Spain. The children were surprised to learn that they write letters to the 3 Wise Men instead of Santa and they don't get to open their presents until 6th January. We wrote some of our own letters to the 3 Wise Men and, as most of us had already written Santa, decided to ask for some presents for other people. The children also found out that instead of stockings Spanish children will put a shoe on their window sill so we designed some of our own shoes.
21/12/17
We have had a fantastic time learning about Mountains and the Water Cycle this term. Children have been creating their own contour line models, put together a mini water cycle and researched the Adi Tribe who live in the Himalayas.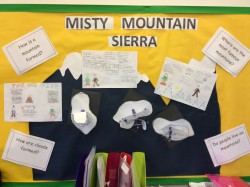 This term our Christian Value has been Compassion. We have all worked hard to be more compassionate to others by carrying out some 'Random Acts of Kindness'. All the children have completed at least one act of kindness and have managed to completely fill our board!