Mrs Mills
My name is Mrs Mills and I teach Year 3 full time Monday to Friday.  I am the Art and PE coordinator.  I run an after school art club with year 3. This is my fifth year teaching at Mobberley Primary School. Our Cornerstones topic for Summer Term 1 is 'Flow' . I am really excited about this new Imaginative Learning Project.
Please have a look at our Curriculum Letter to see all the exciting things we will be up to this half term.
Manchester Cathedral and Airport –> Journey Project
Year 3 have been lucky enough to be selected as one of four schools to get involved in the Journey Project, which links with Manchester Cathedral and Manchester Airport. This is to celebrate the opening of the new runway at Manchester Airport and the children will have work displayed in an area within the new terminal. It is also to celebrate 600 years of Manchester Cathedral. The children as a result had a trip, paid for by the airport, into Manchester to do some brass rubbings and learn about the cathedral. As well as having an artist come into school to work with them for a day. We had so much fun.
P.E.
The children have been enjoying archery sessions at lunchtime with Progressive Sports Leader Harry Farringdon.
A selection of KS2 children were lucky enough to meet Beth Tweddle today as she came and spoke to the children about gymnastics.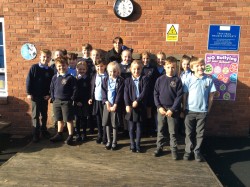 ---
Tremors 
---
Urban Pioneers
The children created some really amazing projects to present to their peers!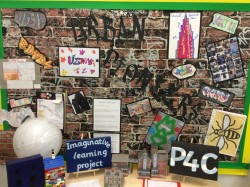 We walked to the Victory Hall and produced some sketches of the wooden soldier statue to use for our art project in class.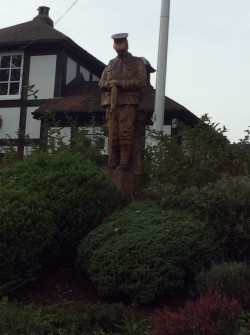 ---
Tribal Tales
The children were learning about the layers of the earth and so we made mud pudding to demonstrate the different layers and what each layer is like.
The children made their own Stone Age pots using clay!
The children produced some amazing projects that they shared with their peers.