Miss Whalley and Mrs Mills
My name is Miss Whalley and I will be teaching Year 3 in the afternoon until October when I will be teaching them full time. Our Cornerstones topic for Autumn Term 2 is 'Tribal Tales'. I am really excited about teaching Year 3 this year, and can't wait to start our new Imaginative Learning Project!
Here are some ideas for home learning that you might want to do before we begin our new topic!
Some ideas for home learning during half term.
My name is Mrs Mills and I have taught at Mobberley C of E Primary School for five years. I will be teaching the Year 3 class in the mornings till October when I will be going off on maternity leave.  I am the Art and PE coordinator.
Please have a look at our Curriculum Letter to see all the exciting things we will be up to this half term.
Have a look at our overview for the Autumn Term!
---
---
Faith Day 
Year Three had a brilliant day focussing on Judaism and learning all about the Jewish festival of Hanukkah. We learnt the story of Hanukkah and created some fabulous comic strips to retell the special story. We also had lots of fun making dreidels and playing a traditional Jewish game with them before creating some amazing Star of David's from lollypop sticks. We loved sharing our day's learning and creations with the rest of the school at the end of the day.
---
---
Tremors
We have had such a brilliant time exploring our 'Tremors' topic this half term! Thank you for all of your wonderful research and learning at home to support our new learning in class. You all managed to teach me something new!
---
We explored the layers of the Earth and soil by using biscuit, oreos, wiggly worms, cocoa powder and even some strawberry ice cream sauce for the Earth's core! Then we took them home to eat- YUM!
---
When we learnt about Pompeii and the eruption of Mount Vesuvius, we decided it was definitely news worthy, and became reporters for the afternoon! We wrote our own scripts for our news report (live from Pompeii) before videoing them together.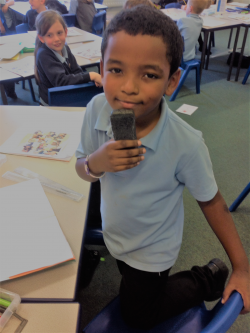 ---
We wanted to explore how volcanoes erupted. Our ideas ranged from them erupting because they 'feel sick' to them getting 'far too hot' and needing to explode! We discovered that they really erupt because the gas particles 'bang together' and have nowhere to go other than through the roof of the caldera! Year three had a brilliant time recreating this by shaking up a can of fizzy drink until the gasses had nowhere to go but… UP.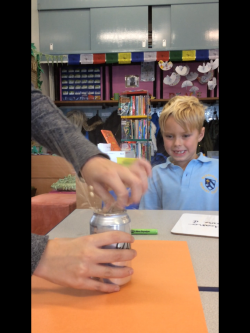 ---
In Science, we've been looking at the properties of sedimentary, metamorphic and igneous rocks. We sorted all of these different yummy treats into different rock types depending on their properties!
---
Year 3 saw the destruction created by several earthquakes around the world, and wanted to explore ways that we could create 'earthquake proof' buildings. We spoke about using richter scales to measure the size of earthquakes and discussed the role of scientists who study earthquakes (seismologists). After this, we tried to create our own earthquake proof buildings with marshmallows and toothpicks before testing them with an earthquake in our classroom!